Welcome
Welcome to The 3rd NTU-Kyoto University International Symposium for Cognitive Neuroscience, 2018.
We organize the symposium to bring together individuals working within Socio-Cognitive Neuroscience to discuss the latest findings on understanding self, others, and objects. The symposium will be hosted in Psychology Department of National Taiwan University, on March 17th 2018.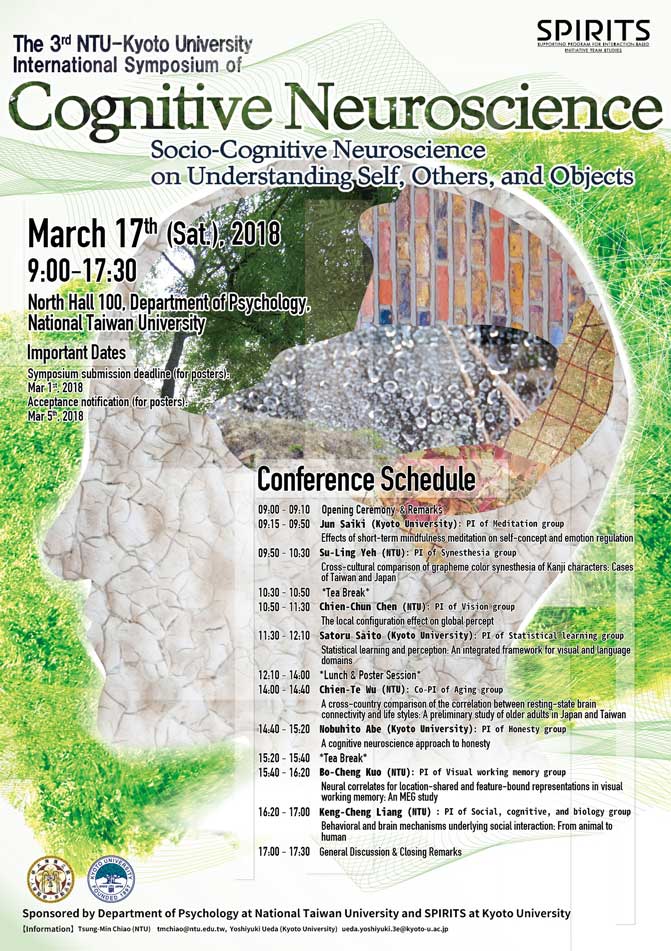 Important Dates
Registration deadline: (Click for Online Registration)
March 15th, 2018
Symposium submission deadline (for posters):
March 7th, 2018
Acceptance notification (for posters):
March 10th, 2018
*Interested indivisual may submit abstract within 150 words. Please send your title and abstract to Tsung-Min Chiao (NTU): tmchiao@ntu.edu.tw
*Poster size: A0 portrait (120cm*90cm)
Program
Time
Contents
9:00-9:10

Opening ceremony

Opening remarks

9:10-9:50

Jun Saiki (Kyoto University): meditation

Effects of short-term mindfulness meditation on self-concept and emotion regulation

9:50-10:30

Su-Ling Yeh (NTU): synesthesia

Cross-cultural comparison of grapheme color synesthesia of Kanji characters: Cases of Taiwan and Japan

10:30-10:50

Tea break

10:50-11:30

Chien-Chun Chen (NTU): Vision

The local configuration effect on global percept

11:30-12:10

Satoru Saito (Kyoto University): statistical learning

Statistical learning and perception: An integrated framework for visual and language domains

12:10-14:00

Poster session

Lunch

14:00-14:40

Chien-Te Wu (NTU): aging

A cross-country comparison of the correlation between resting-state brain connectivity and life style: a preliminary study of older adults in Japan and Taiwan

14:40-15:20

Nobuhito Abe (Kyoto University): honesty

A cognitive neuroscience approach to honesty

15:20-15:40

Tea break

15:40-16:20

Bo-Cheng Kuo (NTU): visual working memory

Neural correlates for location-shared and feature-bound representations in visual working memory: an MEG study

16:20-17:00

Keng-Cheng Liang (NTU): social, cognitive, biology

Behavioral and Brain Mechanisms underlying Social Interaction: From Animal to Human

17:00-17:30

General discussion

Closing
Location
By MRT
Take the Green Line to Gongguan Station and walk about 15 minutes then you will get to North Hall 100, Psychology Department of National Taiwan University.